Horace Greeley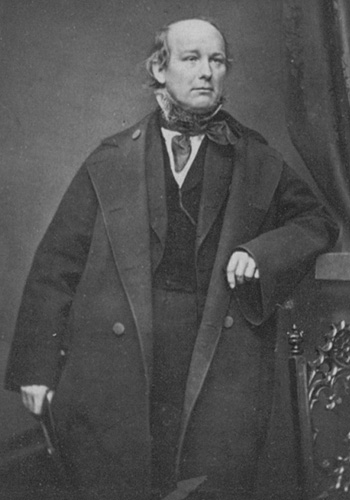 Horace Greeley (1811-1872) became one of the most famous American public figures of his day as the editor of the New-York Tribune. Greeley was born in 1811 in Amherst, Vermont, third child of Zaccheus Greeley and Mary Woodburn Greeley. He received little formal education, though he learned to read very young. In 1826, aged fifteen, he became an apprentice printmaker for the Northern Spectator, in East Poultney, Vermont. In Vermont, he became a temperance man (before the founding of the American Temperance Society) and an Anti-Mason.1
In 1831, Greeley moved to New York City, where he worked for short periods of time at the Evening Post, The Amulet, the Commercial Advertiser, Sporting News and the Spirit of the Times, boarding for a while at house run by Sylvester Graham, where he met Mary Cheney – they married in July 1836. In 1834, Greeley printed a Whig newspaper, The Constitution, and then that spring, founded the New Yorker (with Jonas Winchester), which he edited until 1841. In the New Yorker, Greeley printed songs and jokes as well as political commentary, condemning slavery and discussing the state of the American labouring classes.2
Through the 1830s, Greeley was a key figure in New York Whig circles, editing the Jeffersonian in 1838, and then – in the lead-up to the 1840 presidential election – the Log Cabin, in which he campaigned for the successful Whig nominee William Henry Harrison. Both of Greeley's Whig newspapers were widely read and extremely successful, Greeley himself claiming in his memoirs, that the Log-Cabin's circulation was "entirely beyond precedent… the weekly issues ran rapidly up to 80,000, and might have been increased… to 100,000."3
In 1841, after abandoning the New Yorker, Greeley began publishing the New-York Tribune: he would later recall that he was asked to start the paper by "several Whig friends who deemed a cheap daily addressed more especially to the labouring class, eminently needed in our city."4 The Trib' combined Whig politics with literary review, social commentary, and eventually foreign correspondence. It became one of the most successful and widely circulated newspapers in the United States.As well as an outlet for Greeley's Anti-Democrat Whig politics, the early Tribune was also mouthpiece for several of the other movements that Greeley became associated with in the early 1840s, including the socialism of Charles Fourier. In an essay entitled "Socialism," collected in his Recollections of a Busy Life, Greeley cites the "destitution flowing from involuntary idleness" prevalent in 1830s New York as the force spurring on his own socialist politics; he goes on to compare the theories of Robert Owen, the Comte de Saint-Simon, and Fourier.5 Greeley was particularly convinced by the theories of Fourier, whose principal advocate in the U.S., Albert Brisbane, Greeley met in 1841. He helped Brisbane found the Fourierist journal The Future, and became increasingly attracted to Brisbane's Fourierist socialism; eventually Brisbane became a regular front-page contributor to the Tribune.6
During the 1840s, the Tribune was also an important outlet for transcendentalist thought. Greeley met Ralph Waldo Emerson in 1841, introducing him to Brisbane and Fourierism, and in 1842 Greeley visited Brook Farm. In 1844 Greeley met Margaret Fuller; that summer, Fuller became the literary editor of the Tribune and, while in New York, she lived at the Greeley residence. Greeley celebrated Fuller's "The Great Lawsuit," published in 1843 in The Dial, and was responsible for printing the extended version, Woman in the Nineteenth Century.7 In 1846, Fuller left New York to become one of the Tribune's foreign correspondents based in Europe.
Notes:
1 Greeley's early life is discussed in detail in Williams, 1-20.
2 For more information on Greeley's early publications and his work at the New Yorker, see Williams, 25-39, and Tuchinsky, 1-8.
3 Williams (29-55) and Tuchinsky (1-5) discuss Greeley early Whig politics before the Tribune in depth; Greeley, 134.
4 Greeley, 136
5 Greeley 146-7
6 See: Tuchinsky, 28-3, and Williams, 58-66.
7 See Greeley, 175, Tuchinsky 58-81, and Williams 76-87.
Works Consulted:
Greeley, Horace. Recollections of a Busy Life. New York: J. B. Ford & Co., 1868 (Reprinted by Arno Press Inc., 1970).
Tuchinsky, Adam. Horace Greeley's New-York Tribune: Civil War-Era Socialism and the Crisis of Free Labor. Ithaca and New York: Cornell University Press, 2009.
Williams, Robert C. Horace Greeley: Champion of American Freedom. New York and London: New York University Press, 2006.
Photo courtesy of: http://www.mrlincolnandnewyork.org/new-yorkers/horace-greeley-1811-1872/